Toll-Free: (888) 831-1012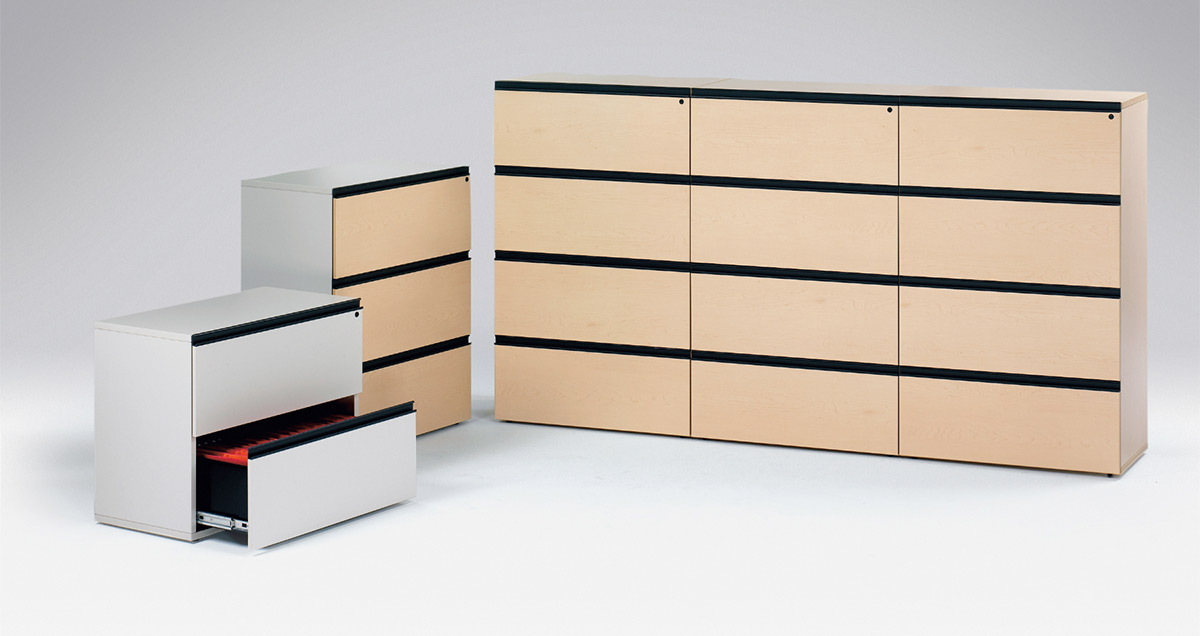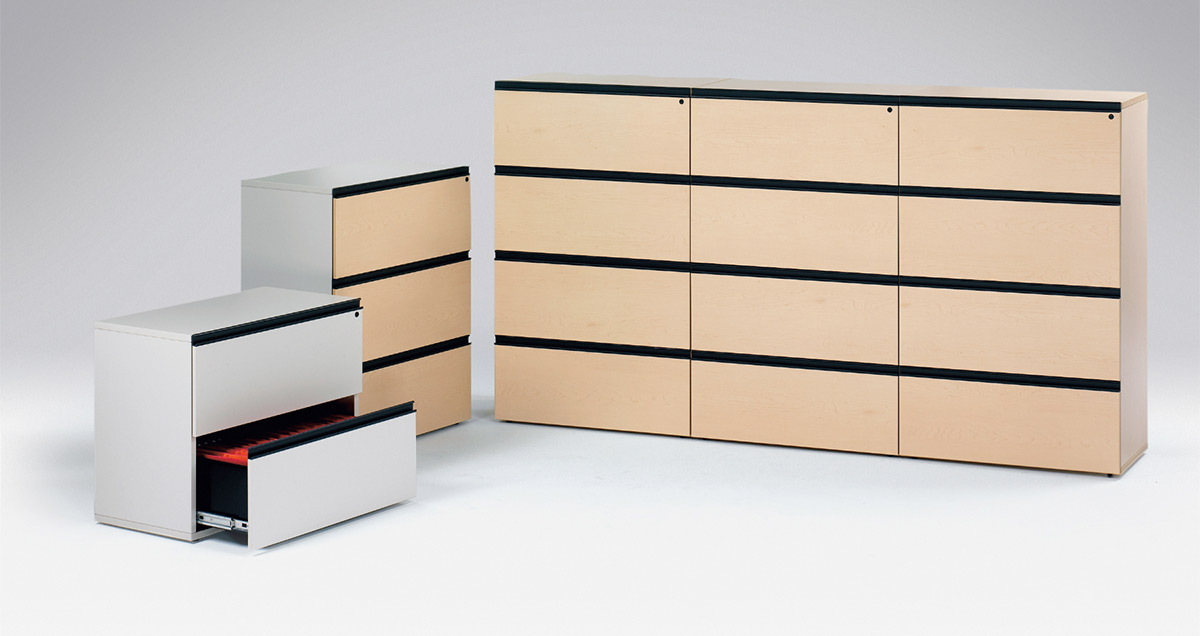 Office Filing Cabinets
Every business or home office needs a filing cabinet system to keep files in order. Filing cabinets keep documents in safe storage or in sort for quick reference when needed. Filing cabinets come in a variety of sizes, shapes, and materials to serve any storage need and fit in with the design aesthetic of your office space.
Vertical Filing Cabinets
Traditional filing cabinets come in a standing vertical design, typically made out of metal or steel. These cabinets come in drawer heights between two and five. These cabinets come with a locking system to keep your files safe when not in use. Most filing cabinets are designed for letter sized storage, with a few select legal sized options.
The four-drawer vertical file, letter width, is the version purchased by most businesses in the United States. Vertical filing cabinets are used in nearly every business around the world.
Lateral Filing Cabinets
Lateral filing cabinets are a newer alternative that allows for more storage options. This filing system gives the ability to store both letter and legal sized documents. These options include two to five drawer options, with additional options with cabinet space, or book shelving. These newer options come in several options- metal, steel, and laminate which makes matching your office style easy.
Lateral filing cabinets are commonly used in lawyers offices, by accountants, insurance agents, doctors offices and any other business that may require large storage solutions for excess paperwork. These cabinets can be used to store client's files, keep an office organized and improve productivity where paperwork is storage on hard-copy rather than by digital file.
Most lateral filing cabinets provide you with rails or bars so you can customize how you file documents in each drawer. Legal or Letter sized paper filing can be done in these drawers by simply changing the configuration of the rails to meet the needs of the size of paper you are using. Standard letter paper measures 8.5 by 11 inches while legal sized documents measure 8.5 by 14 inches long. Legal sized paper is the same width but 3 inches longer.
When setting up a new lateral file cabinet for storing documents you can choose how to setup the rails, usually front to back or from left to right. Some filing cabinets will only supply you with rails for storing from left to right so if it is important to store documents from front to back make sure to check the features of the filing cabinets to insure you are getting what you need for document storage.
When selecting filing cabinets, partnering with a trusted supplier in the office furniture business will help make your purchase easier. This partner will help assist you in selecting the right filing cabinets that you need for your business or home office. If you are currently looking for filing cabinets for your business or home office and are in need of assistance in your search, give us a call at (888) 831-1012 to speak one-on-one with a member of our professional design team!